GUNSMITHS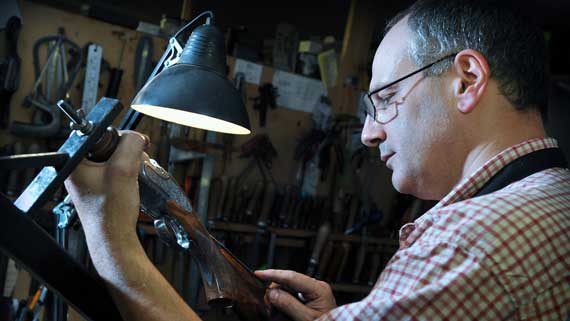 A week's work experience at a local gunshop when 15 years old led Jason onto a Saturday job which evolved into his full-time career. Jason did a time-served apprenticeship; learning hands-on in the shop but also attending college to study mechanical engineering to HNC level.
Working in this environment was invaluable experience, not only for the skills learned, but also for meeting others in the gun world from whom he has learned so much more about guns and gunmaking.
Jason has carried these skills forward into his own business and maintains good relationships throughout the gun trade. Whilst he enjoys the contact with customers and being in the shop, working on guns and the workshop environment is his first love.
With over thirty years experience working in the British guntrade we are able to carry out a wide range of work and alterations to the highest standards. Whilst most of our repairs are carried out on the premises, we also employ the services and extensive knowledge of some of the best trained London craftsmen. Thus we are able to offer work to the same standard as many of the best London gunmakers.
We are capable of carrying out service, repair and restoration to guns of any age; though our specialist fields of knowledge cover the more modern style of guns; i.e. hammer and hammerless guns from the last half of the 19th century to date.
Whilst we are happy to give valuations after examining a particular gun, we regret we cannot give valuations online. We carry out a full range of stock alterations and fitting work to guns across the shotgun spectrum, be it the oldest hammer gun to the latest Beretta or Browning OU.
We can work to measurements supplied by a shooting school, or we are happy to advise on gunfitting and alter the gun accordingly. We are able to give an estimate, on request, for any work, but only on sight of the gun.
Below is a list of work examples that we can carry out;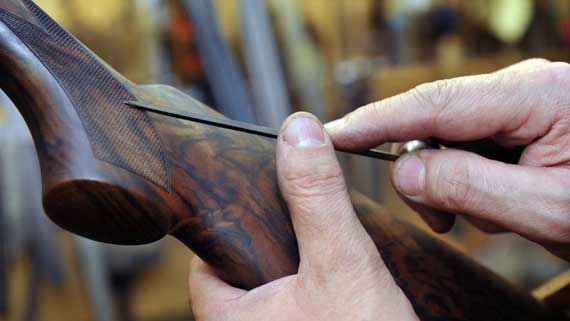 Stock work
Re-stocking to boxlock and sidelock guns, and finishing to London standards.
Re-cutting chequer.
Oil finishing stock and forend; including raising the grain and filling.
Reshaping of pistol grips and forends.
Shortening and re-fitting butt plate, recoils pad or shape and chequer.
Fitting gold or silver oval or shield and engraving with initials.
Fitting to length by; recoil pad of choice, wood lengthener, horn or vulcanite butt plate.
Fitting ISIS recoil reducing systems.
Bending and casting stock to measurement.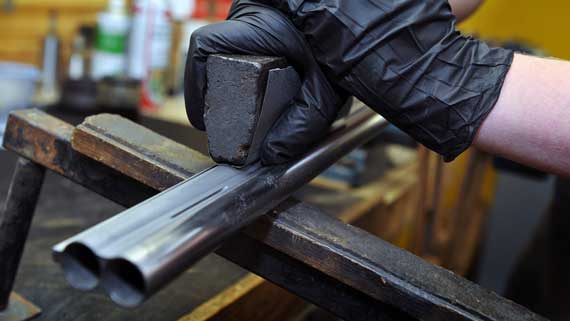 Barrel work
Choke alterations.
Dent raising and repairs.
Barrel honing to remove pitting and marks in bores.
Re-sleeving and making of new barrels.
Re-fixing loose ribs.
Re-blacking barrels by the traditional slow rust/ hot water method for English guns or guns with soft soldered ribs.
Re-blacking barrels by the hot caustic process for continental barrels, or barrels with silver soldered ribs.
Replacing and fitting of new ribs.
Fitting or replacing foresights and mid-sights.
Action work
General servicing, cleaning and regulating to trigger and ejector work.
Re-jointing and tightening work to loose actions.
Fitting or making new springs or parts as required.
Preparing and submitting guns for proof.
Polishing action frames and blacking of furniture; top lever, trigger guard, forend iron, etc.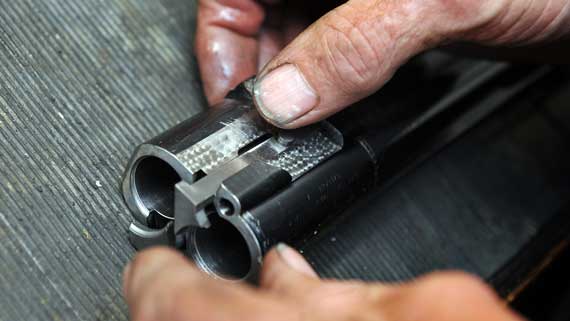 Rifle work
Screw cutting and fitting sound moderators or muzzle brakes to most makes and calibres.
Shortening and Re-crowning.
Trigger tuning and replacements.
Pillar bedding stocks.
Fitting mounts and 'scopes.
Re-bluing work.
---
GUNSMITH ENQUIRIES
We are happy to discuss your requirements and invite you to email us by
clicking here
or by telephoning
01728 724776
.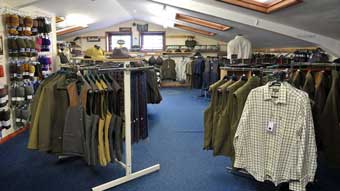 Shop
Our spacious, well-stocked shop is a must-visit for all country sports and shooting enthusiasts. Whether you are a game shooter, a walker, an air gun aficionado, a clay shooter or just in need of a good pair of wellies, we will have something for you.
We carry an extensive range of country clothes from breeks, coats to waistcoats in both traditional Tweed and all the modern technical materials. We also stock shirts and jumpers and of course a huge range of waterproof footwear, trousers and leggings. ... more »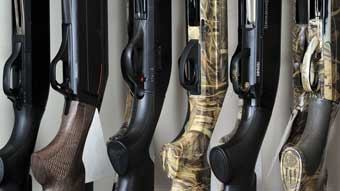 Gun Room
We are enormously proud of our well-stocked gun room, where we hope that you'll find the perfect gun for you. At Trulock and Harris, we have built our reputation on quality service, expert personal advice and complete aftersales support. And this is never more important when choosing your new or second hand gun.
We carry a full range of makes, calibres and actions and you will find ALL our current stock, both new and second hand listed here on our site ... more »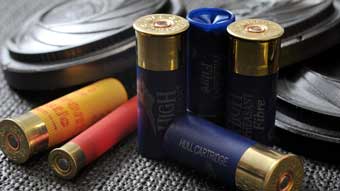 Ammunition
For the shotgun shooter we carry an extensive range of cartridges in all the popular gauges from RC, Express, Eley Hawk and Hull, to suit both the clay and game shooter. Naturally for wildfowling we also stock Bismuth and Steel in a variety of loads. We also can supply a wide ranging selection of specialist loads too.
We carry an equally huge stock of ammunition for rifles, both rim- and centre-fire. All the most popular calibres are held in stock by CCI, Sako, in Federal, Winchester, Norma and Hornady. If your interest in is air rifles, we haven't forgotten about you, as we have a wide-ranging selection of pellets by BSA, Bisley, RWS, H & N, and Air Arms to suit your every need ... more »